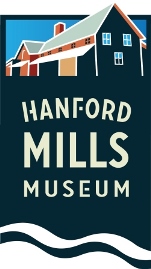 HANFORD MILLS MUSEUM NEWS RELEASE
FOR IMMEDIATE RELEASE
CONTACT: Liz Callahan 607/278-5744, [email protected]
New Season Begins May 15 at Hanford Mills Museum
[East Meredith, NY] A new season begins May 15 at Hanford Mills Museum. Guided tours will be offered Wednesdays through Sundays and feature demonstrations in the water-powered sawmill, gristmill, and woodworking shop. In addition to operating the 1926 Fitz overshot waterwheel and water turbines, on select days, the Museum operates its wood-fired steam boiler and steam engines. Tours last about two hours.
"We look forward to welcoming visitors to Hanford Mills Museum and operating the water-powered mill," says Museum Executive Director Liz Callahan. "We have had several upgrades and additions to the site, including a new metal roof on the Mill complex, a new stone log deck in the Mill yard, and the ongoing restoration of the boxcar, which helps us interpret the impact of the railroad on Hanford Mills."
Visitors can also tour the Hanford House, barns and other outbuildings and view exhibits and a video. The Learning Lab offers young visitors a hands-on play space with blocks, gears, books, and more. Hanford Mills also has picnic tables and a shop stocked with Mill-made items, books, and local crafts.
Special events at Hanford Mills include the Independence Day Celebration on July 4, the Dan Rion Memorial Antique Engine Jamboree & Powerfest on September 7, and the Woodsmen's Festival on October 5. Free Family Saturdays, which offer free admission to adults who are accompanied by children under 18, will be offered on May 25, June 15, July 20, and August 10. Workshops are offered throughout the season, including a Fly Fishing School run by the Dave Brandt Chapter of Trout Unlimited on May 18, and the  Steam Power 101 Workshop on June 8-9.
See the website for more information, hanfordmills.org.
Admission and Information
Children 12 and under receive free admission. Admission for adults and teens is $9; senior and AAA member admission is $7.  First responders and members of the military receive half-price admission. Museum members and residents who live in zip codes (13757, 13739, 13786, 13750, and 13806) neighboring Hanford Mills receive free admission. Hanford Mills participates in the nationwide Museums for All program. Anyone with an EBT card receives free admission. See hanfordmills.org for additional discounts.
About Hanford Mills Museum
Hanford Mills Museum operates an authentic water- and steam-powered historic site, which includes a sawmill, gristmill and woodworking shop. The mission of Hanford Mills Museum is to inspire audiences of all ages to explore connections among energy, technology, natural resources and entrepreneurship in rural communities with a focus on sustainable choices. The museum is listed on the National and New York State Registers of Historic Places.
Hanford Mills is located at 51 County Highway 12 in East Meredith, at the intersection of Delaware County Routes 10 & 12, just 10 miles from Oneonta, and 15 miles from Delhi.  For more information, visit www.hanfordmills.org or call 607-278-5744.
###
For more information, please contact:
Liz Callahan, Executive Director, Hanford Mills Museum, 607/278-5744, [email protected]
For photos, please contact Peg Odell, [email protected]g