Planning for 2022 events at Hanford Mills is underway. Look for announcements in the Spring.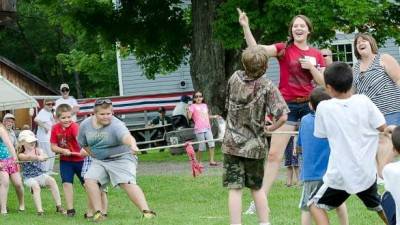 Celebrate the Fourth at Hanford Mills Museum's annual Independence Day Celebration. The event features old-fashioned fun, with two frog jumping contests, a fishing derby on the Mill Pond, live music, tug o' war, and sack races. Visitors can tour the historic Mill and woodworking shop and see water- and steam-power demonstrations featuring the 1926 Fitz Overshot waterwheel, the steam boiler and steam engines. There are also local vendors and live music.
Mill staff and volunteers will be making vanilla ice cream on a steam-powered churn, chilled with ice cut during February's Ice Harvest Festival. Free ice cream samples will be served up until they're gone. "The ice cream is the sweet reward of last February's successful ice harvest," said Hanford Mills Museum executive director Liz Callahan. The ice is kept frozen in the Museum's traditional ice house, packed with sawdust from the Mill.
Special Fun for Kids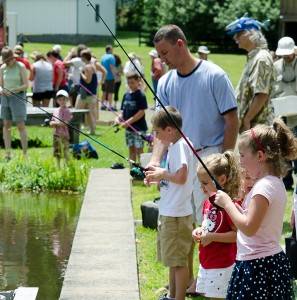 Children 14 and under can take part in a fishing derby on the Mill Pond from 10:30 am – 1:30 pm. Children can bring fishing poles and bait or borrow poles available from the Department of Environmental Conservation in Stamford. Volunteers from the Dave Brandt Chapter of Trout Unlimited will be on hand to get you started and offer fishing tips. Kids can win fun prizes from local businesses and organizations.
BYOF (Bring Your Own FROG) and take part in frog-jumping contests at 12:30 pm and 2:30 pm. No frog? No problem: the contests are just as much fun to watch! There also will be sack races and tug o' war contests. The Museum's Learning Lab, a special place for kids 8 and under to explore and create, will be open, and kids can play with mini waterwheels, Imagination Playground blocks, gears, and more.
Unique Steam Power Demonstrations
"We are one of the few places in the country that features steam power," explains Hanford Mills executive director Liz Callahan. "Firing up the steam boiler and operating it is demanding and labor intensive. Staff and volunteers make up the 'Steam Team,' whose experience, training and dedication enable us to run the boiler and steam engines just as the Hanfords did a century ago." She noted that while the Museum operates the waterwheel during tours offered every Wednesday through Sunday, steam power demonstrations occur only a few times a year. Visitors on July 4th can see both power sources.
Admission and Hours
The Independence Day Celebration is included with regular Museum admission, which is free for all children 12 and under, active duty military and their families, and Museum members. EBT cardholders also receive free admission, through the Museums for All program. Museum Neighbors residing in the following zip codes receive FREE admission (with proof of residency): 13757, 13739, 13786, 13750, and 13806.
Festival activities run from 10 am to 4 pm; the Museum site is open 10 am to 5 pm. Visitors are welcome to bring a picnic or purchase food from local vendors that will be on site.
The Independence Day Celebration is sponsored by WSKG and Sidney Federal Credit Union.