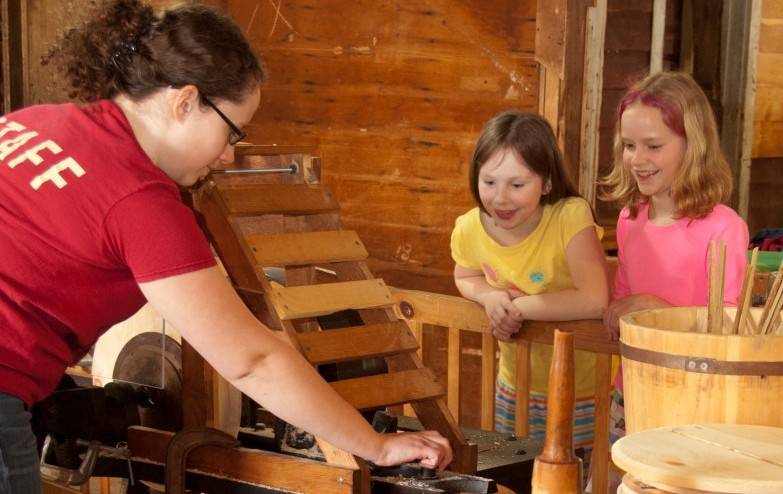 Come enjoy a field trip for families with special hands-on activities for kids.  Take a kid-focused guided tour of the Mill's historic water-powered sawmill, gristmill and woodworking shop, and see how water powers the mill and its century-old machines.
Be sure to stop in to the Learning Lab, which has a variety blocks, gears, and circuits for kids to build and explore. 2018 Family Saturday dates are: May 26, June 16, July 28, and September 1.
On Family Saturdays, up to two adults will be admitted free of charge when accompanied by a child under 18. Children aged 13-18 will be admitted free of charge as well. Children 12 and under always receive free admission to the Museum, even for special events like the Antique Engine Jamboree, the Woodsmen's Festival and the Ice Harvest Festival.
Champion Farrier on September 1
The Family Saturday on Labor Day Weekend will feature people who worked at the Mill, and people who depended on the Mill to do their work. Kid-focused guided tours will talk about millers, carpenters, farmers, builders, blacksmiths, and coopers. Champion farrier Jeremy Scudder will demonstrate his craft.
Jeremy grew up having horses, and started shoeing horses in high school. He then attended Cornell Farrier School, and in 2010 started competing in farrier contests. He is a Certified Journeyman Farrier, and had a three-month Farrier apprenticeship in England.  He was on the American Farrier's Team in 2015 and 2016, and in 2016 was named the American Reserve National Champion Farrier.
Farrier demonstrations will take place from 1 pm to 4 pm.
Family Saturday also features demonstrations in the water-powered mill and the blacksmith forge. Families are also invited to play games of horseshoes, and play with blocks and gears in the Museum's Learning Lab.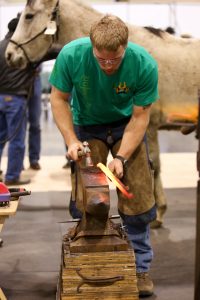 Getting There
Hanford Mills Museum is located at 51 County Highway 12 in East Meredith, NY 13757. Get directions