Saturday, October 13, 2018 10 am – 4 pm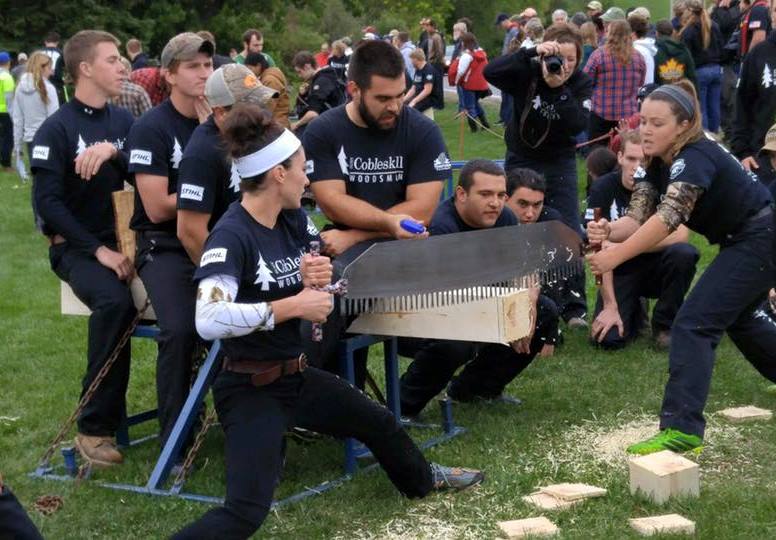 Fall Festival showcases logging, sawing and woodworking history
Come see the axes fly! The Woodsmen's Club from the SUNY College of Agriculture and Technology at Cobleskill returns to Hanford Mills to demonstrate cross-cut sawing, overhand and underhand chop, ax throwing and other lumberjack skills. The speed and precision of these talented college students is amazing to watch.
The  Woodsmen's Festival also will feature:
Traditional cooper Bob Allers
Don Vanhart  (1870s treadle lathe demonstrations)
James Cleaveland (woodcrafts)
Horse-drawn wagon rides
Music by  Bourbon & Branch (1-4 pm)
Abba's Acres (goat's milk fudge, hickory syrup, jams, peanut brittle, soap, and honey)
Gilson's Native American Crafts (handmade jewelry, beadwork, dreamcatchers)
Awestruck Ciders, serving samples and bottles of premium hard cider
Pure Catskills (Buy Local Campaign, free giveaways)
My Woodlot (resources for landowners and outdoor activities)
American Chestnut Society
Catharina Kessler her handmade Swedish style, traditional mittens and hats
Shaver Hill Farm maple syrup and candy
Water-power demonstrations in the historic sawmill, gristmill and woodworking shop
Historic cooking demonstrations in the John Hanford Farmhouse
Tickled Pink BBQ
Pies (whole and by the slice) made by members of the Charlotte Valley Presbyterian Church
Mill-made crafts, traditional toys, books, and local products for sale in the Museum Shop
and more!
"The first mill was built on this site in 1846," says Museum executive director Liz Callahan. "For generations and generations, Hanford Mills supplied the community with lumber and wood products they needed for their homes, businesses, and farms. The Woodsmen's Festival celebrates this history, and is an opportunity to demonstrate how we still use water power to run the Mills' machines. We also want to highlight the work of today's woodworkers, craftspeople, lumberjacks, and organizations that work to protect and enhance our forests."
Added Fun for Kids
The Cooperstown Graduate Program will be offering a fun slate of activities.  Kids can make a mini-forest, create leaf rubbings and stick dolls, and build mini-beaver dams and test how well they work. And, the Learning Lab will be open with gears, blocks and kid-focused activities.
Admission
The Woodsmen's Festival is included with regular Museum admission, which is free for children 12 and under, and Museum members. Woodsmen's Festival activities are planned through 4 pm; the Museum site is open until 5 pm.
Museum Neighbors residing in the following zip codes receive FREE admission (with proof of residency): 13757, 13739, 13786, 13750, and 13806.