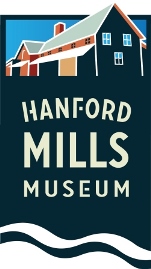 HANFORD MILLS MUSEUM NEWS RELEASE
FOR IMMEDIATE RELEASE
CONTACT: Liz Callahan 607/278-5744
Ice Harvest Festival
February 2, 2019 10 am – 3 pm
Hanford Mills Museum
51 County Hwy 12, East Meredith, NY
www.hanfordmills.org
info@hanfordmills.org
607/278-5744
Take part in a traditional ice harvest, just as communities did a century ago. Festival also includes ice carving, ice fishing, horse-drawn sleigh rides, snowman village, hot soup buffet, food trucks, blacksmithing and cooking demonstrations, and exhibits by local businesses and farmers. Kids 12 and under get in free; Adults and Teens, $9; Seniors, $7.
Ice Harvest Festival at Hanford Mills Museum: Winter's Coolest Tradition
[East Meredith, NY January 16, 2019] Hanford Mills Museum in the Catskills' East Meredith will hold the 30th anniversary Ice Harvest Festival on Saturday, February 2, 2019. Visitors can take part in a traditional ice harvest using historic tools and techniques. Each year seven to eight tons of ice are harvested.
"We call Ice Harvest the region's coolest tradition; it's a day of winter fun and hands-on history," says Hanford Mills executive director Liz Callahan. "There were 75 people at the first Ice Harvest in 1989, and now we regularly welcome 1,200 or more to the Ice Harvest Festival. It's an opportunity to embrace winter, enjoy the outdoors, and learn about the past in a unique way."
The popular winter event celebrates an activity that was essential before mechanical refrigeration. People would cut ice from frozen ponds and rivers and then store it in ice houses. In the warmer months, the ice would be used to keep food and agricultural products cold. "Ice was viewed as a winter crop by area farmers," explains Callahan. The ice harvested at the festival will be used to make ice cream at Hanford Mills Museum's Independence Day Celebration on July 4.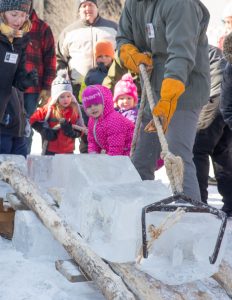 Festival features a range of activities
The SUNY Delhi Hospitality Center Ice Team will be transforming blocks of ice into works of art. The Dave Brandt Chapter of Trout Unlimited will offer children the chance to ice fish. Visitors can enjoy a horse-drawn sleigh rides around the Museum site. The Hot Soup Buffet features soup and chili made by area restaurants. There will be blacksmith and historic cooking demonstrations. The Catskill Interpretive Center will have art supplies for visitors to sketch on site, and information on the new Catskill Art Club. Local vendors include Byebrook Farm Farmstead Gouda, Catharina's Hats and Mittens, Cabana Coffee, and the Cooperstown Distillery.  Heat Smart Otsego will offer tours of the Museum's advanced pellet boiler and district heating system and provide information on clean heating and cooling technologies.
The hot soup buffet will feature chili and soup from Alfresco's Italian Bistro, the Autumn Café, Brooks House of BBQ, Cross Roads Café, Fiesta Mexican Grill & Cantina, the Green Earth Café, Jay's Place, Mel's at 22, Morey's Family Restaurant, Oneonta Bagel Company, the Otesaga, Signatures Restaurant, Simply Thai, and the SUNY Delhi Hospitality Program. Junkyard Bakehaus provides cookies. Sales from soup and cookies benefit the Museum's educational programs.
See hanfordmills.org for more information and updates. If the ice is 8 or more inches deep, the public can fully participate in the ice harvest. Because snow acts as an insulator, during the weeks leading up to the Ice Harvest Festival, Museum staff members shovel the pond. "Our staff works hard to ensure a good crop of strong clear ice," says Callahan. "With the recent single digit temperatures, it's certainly good ice-making weather." In recent years, the depth of the ice has ranged from 7 inches to more than 18 inches.
Admission and Information
Children 12 and under receive free admission. Admission for adults and teens is $9; senior admission is $7. Discounts available for teachers, first responders, veterans, members of the military, EBT cardholders, and AAA members. Hanford Mills Museum members receive free admission.
About Hanford Mills Museum
Hanford Mills Museum operates an authentic water- and steam-powered historic site, which includes a sawmill, gristmill and woodworking shop. The mission of Hanford Mills Museum is to inspire audiences of all ages to explore connections among energy, technology, natural resources and entrepreneurship in rural communities with a focus on sustainable choices. The Museum, which is listed on the National and New York State Registers of Historic Places, will open for the 2019 season on May 15.
Hanford Mills is located at 51 County Highway 12 in East Meredith, at the intersection of Delaware County Routes 10 & 12, just 10 miles from Oneonta, and 15 miles from Delhi.  For more information, visit www.hanfordmills.org or call 607/278-5744.
###
For more information, please contact:
Liz Callahan, Executive Director, Hanford Mills Museum, 607/278-5744, lizc@hanfordmills.org
Photos of past Ice Harvest Festivals are available for media use. For additional photos, please contact Peg Odell, pego@hanfordmills.org