Winter's Coolest Tradition: February 10-11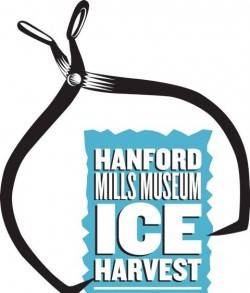 Join us for a traditional ice harvest! As Hanford Mills Museum kicks off our 50th anniversary season in 2023, we're going back to our roots and reflecting upon the historical traditions of the ice harvest.
What will be different in 2023?
Instead of setting a date months in advance, we are going to watch the ice and weather to schedule a day (or set of days) as we have a better idea of when ice harvesting will be possible. We will do our best to provide as much advance notice as ice conditions and weather forecasts allow.
Admission will be by donation rather than our usual rates.
Ice Harvest has been scheduled for Friday afternoon (noon-4pm) and Saturday (10am-3pm), February 10 & 11
Because we do not expect to have the 8 inches required for visitors to be on the pond, we are planning for a staff-only cutting on Friday and Saturday. Visitors can still help transfer the ice blocks from the pond to the ice house.
Admission will be by donation rather than our usual rates.
Hanford Mills Museum has harvested ice since 1989, and safety is always our priority. When we harvest ice, visitors can help from the pond if the ice is 8 or more inches thick (and of good quality). If the ice is 6-8 inches thick, Hanford Mills staff will be on the ice, and visitors can help transfer the blocks to the ice house.
Blacksmithing demonstrations will take place both Friday and Saturday.
We are not having a soup sale this year.
Friday Vendors & Exhibitor: Griever Forge will sell ironwork made using traditional blacksmithing techniques (Intelligent Green Solutions is no longer able to attend.)
Saturday Vendors & Exhibitors:

Catharina Kessler will sell traditional Swedish "Lovikka" style hats and mittens she hand knits using wool from her own sheep.
Blue Merle Apiaries will sell honey and honey by-products.
Byebrook Farm will sell Farmstead Gouda cheese.
Griever Forge will sell ironwork made using traditional blacksmithing techniques.
ICE UPDATES:
February 10: We still have just enough ice for a staff cutting this afternoon! We will continue to monitor ice conditions through the day and again tomorrow morning.
February 6: The ice on the pond has grown to 7 inches thick thanks to the cold snap. We still don't have the 8 inches that we need for visitors to help us on the pond, but we are still planning for a staff cutting with visitors watching and helping from shore. We will continue to monitor the ice through the week.
February 3: As of yesterday (February 2), the mill pond ice was measuring between 4-5 inches thick. We expect more growth today and tonight, and we will measure the ice again on Monday morning. Ice Harvest is now scheduled for Friday afternoon and Saturday, February 10-11. Stay tuned for more details soon!
January 31: With colder temperatures in the forecast, we are looking forward to more ice growth this week. We will measure the ice again before the end of the week. We are hoping for a mid- to late-February harvest, and we will schedule Ice Harvest as soon as we have enough ice growth to more confidently set a date.
January 26: The mill pond has about two inches of slush and ice under the recent snow (which insulates the ice and slows growth). The ice is not good quality and it's still too thin for us to walk on it, so we will continue to monitor conditions from the shore until we have enough growth to safely remove the snow and measure farther out on the pond. We will continue to monitor conditions through this storm and hope to have a better idea of our harvesting prospects by early February.
In the days before mechanical refrigeration, ice harvesting was an essential wintertime activity. The ice harvested in the winter would be used to keep food and agricultural products cold in the warmer months. Just as farmers did a century ago, we'll be monitoring ice and weather conditions to determine the best time for the best harvest.
Based on previous weather patterns, we anticipate the ice harvest will take place between mid-January and mid-February. Once we know the date, you'll know! Check back here and on social media  often as we post the latest updates on ice conditions and our planned harvest activities.
Harvesting Ice
Hanford Mills Museum's annual Ice Harvest celebrates the historic and community traditions of harvesting ice. Learn about the process, from measuring the ice to packing it in the ice house.
The Science of Ice and Ice Houses
Why was ice such an important crop before mechanical refrigeration? Ice is full of energy, waiting to be released. Learn more about the science of ice and how Hanford Mills keeps its ice crop cold through the summer.
Ice and a Changing Climate
In New York State, climate change impacts our winter temperatures, and those changes impact the environment, wildlife, and economies. We can see the impacts of these changes at our annual Ice Harvest.