Volunteer Clean Up Day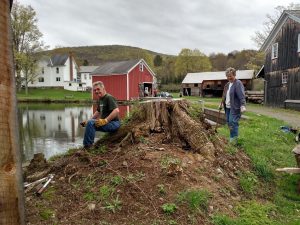 Saturday, April 27, 10 am to 3 pm
Clean-Up Day tasks will include spring cleaning in many of the Museum's historic buildings, raking and preparing flower beds, moving objects, repairing fences, and much more. Although we will have plenty of tools and work gloves, feel free to bring (labeled) tools (rakes, etc) and gloves if you would prefer to use your own.
Come for a couple hours or the whole day–we appreciate whatever time you're able to give. We will provide lunch at noon, and light snacks and beverages will be available all day. Please let Kajsa Harley know you're coming. Snacks and lunch will be provided.
In addition to Clean Up Day on April 28, there are many volunteer opportunities at Hanford Mills Museum.
Volunteers opportunities include:
greet visitors & promote museum memberships at our admissions table during events.
at the Soup Buffet at Ice Harvest by serving soups and beverages, and keeping the dining area well stocked.
by playing period games and doing crafts with children and families.
answer visitor questions.
with general site activities at Special Events.
with things that interest them.  Let us know if there is something you would like to help us with.
An interview and brief training process is required for all new volunteers. Volunteers may be subject to background checks. If you would like to volunteer please contact Luke Murphy, the Museum's Education Coordinator.