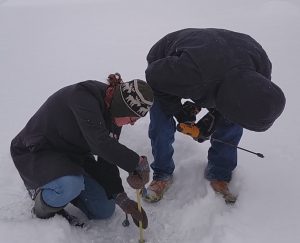 Just as farmers did a century ago, in the weeks leading up to the Ice Harvest we monitor ice conditions and shovel snow from the pond to foster a good crop of strong, clear ice.  Snow acts as an insulator and hampers ice growth. In recent years, the depth of the ice has ranged from 7 inches to more than 18 inches. Hanford Mills Museum has conducted an ice harvest for 31 years, and safety is the priority.  At the Ice Harvest Festival, visitors can help harvest ice from the frozen pond if the ice is 8 or more inches thick. If the ice is 6-8 inches thick, Hanford Mills staff will be on the ice, and visitors can help transfer the harvested ice to the ice house.
February 2: More than 200 blocks of ice were harvested, each weighing about 75 pounds. It was a wonderful day for an ice harvest, with sunny skies and little wind. Thanks to everyone who came and helped us fill the ice house. Make sure to come on July 4th when we'll be making ice cream using the ice we harvested.
January 31: Ice is 11+ inches thick.  We anticipate that visitors will be able to fully participate in the Ice Harvest on Saturday. And more good news: forecast for Saturday is clear and 26-32 degrees.
January 25:  Rob measured the ice this morning and it's 8 1/2 inches thick.
January 11: Today we shoveled the snow from the pond and measured the ice at about 4 inches deep.
Ice Harvest Festival Tips:
Dress warmly in layers. Hats, mittens or gloves, and boots are recommended.
To encourage folks to come at the beginning of the event, everyone who arrives between 10 am and 11:30 am will be entered to win a Mill-made crate filled with books and a Hanford Mills mug, and a family membership. You'll get to do all the activities without much waiting on line, and you may even go home a winner!
Please be aware that GPS provided directions can be unreliable in our area.  Traveling on back roads can be difficult, especially in winter weather. Here are suggested directions, and we also  welcome your phone calls 607/278-5744.
Free parking is available in the large lot across Route 12 from Hanford Mills Museum. Additional parking will be available at the Meredith Historical Society (the former Charlotte Valley Presbyterian Church) at 10044 Elk Creek Road.
Admission is $9 for adults, $7 for seniors and AAA members, $4.50 for members of the military. See more information on admission discounts.
Consider becoming a member of Hanford Mills Museum. Very reasonably priced memberships offer you free admission for a full year, including to all events, like the Ice Harvest, Independence Day Celebration, Woodsmen's Festival, and the Antique Engine Jamboree. Find out about memberships
Kids 12 and under and Museum members get in free.
If you'd like to buy food on site, bring cash. Soup is $3, cookies are $1 each.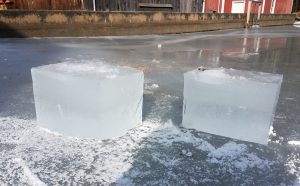 Back to main Ice Harvest Festival page