HANFORD MILLS MUSEUM NEWS RELEASE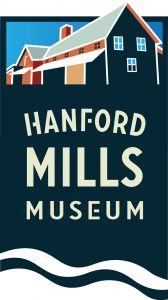 FOR IMMEDIATE RELEASE
CONTACT: Liz Callahan 607/278-5744, [email protected]
2021 Season Begins May 15 at Hanford Mills Museum
[April 15, 2021 East Meredith, NY] A new season begins May 15 at Hanford Mills Museum. Guided tours will feature demonstrations in the water-powered sawmill, gristmill, and woodworking shop, which is marking its 175th anniversary in 2021. Tours are offered Wednesday through Sunday. Due to COVID-19, tours will be limited to one party and require advance reservation by calling 607/278-5744.
"Since we just have one party per tour, our interpreters can really spend time with visitors and cater to their interests, be it technology, sustainability, Catskills history, entrepreneurship, or water power," says Liz Callahan, executive director of Hanford Mills Museum. "And, since we're eager to safely welcome visitors to the Museum, even if you call after hours and leave a message, you will be called back quickly, and we'll get your tour scheduled for you." Tours last about one and a half hours and are offered at 10:00 am, 11:30 am, 1:30 pm, and 3:00 pm.
Visitors can also tour the Hanford House, outbuildings and view exhibits and a video. Hanford Mills also has picnic tables and a shop stocked with Mill-made items, books, and local crafts. Beginning on Father's Day Weekend, Hanford Mills will offer activity kits with several projects that families can do together. Families visiting the Museum can also take part in an activity that explores how the water cycle works.
"We look forward to welcoming visitors back to Hanford Mills Museum," says Callahan. "It's a big year for Hanford Mills as we celebrate 175 years of Catskills ingenuity." She said that the first mill on the site was built by Jonathan Parris in 1846. The site then had several owners until it was purchased in 1860 by David Josiah Hanford. Hanford, and then his sons, ran the Mill for 85 years, expanding the Mill complex and adding new machinery, product lines, and a variety of power generation methods, including waterwheels, water turbines, and a steam power plant.
Independence Day Celebration Cancelled; Fall Festivals Planned
Because of New York State limitations on gatherings, the Independence Day Celebration on July 4 will be cancelled. "We are looking at what we can offer virtually and may offer features of the Independence Day Celebration later in the year," says Callahan. "We are planning to have the Dan Rion Antique Engine Jamboree on September 11 and the Woodsmen's Festival on October 2, as long as State health regulations say it is safe to do so."
Admission and Information
Staff and visitors must wear masks on Museum grounds. "The call-ahead reservation system worked well last season, and people appreciated the safety protocols we have in place," says Callahan.
Children 12 and under receive free admission. Admission for adults and teens is $9; senior and AAA member admission is $7. First responders and members of the military receive half-price admission. Museum members and residents who live in zip codes (13757, 13739, 13786, 13750, and 13806) neighboring Hanford Mills receive free admission. Hanford Mills participates in the nationwide Museums for All program. Anyone with an EBT card receives free admission. See hanfordmills.org for additional discounts.
About Hanford Mills Museum
Hanford Mills Museum operates an authentic water- and steam-powered historic site, which includes a sawmill, gristmill, and woodworking shop. The mission of Hanford Mills Museum is to inspire audiences of all ages to explore connections among energy, technology, natural resources, and entrepreneurship in rural communities with a focus on sustainable choices. The museum is listed on the National and New York State Registers of Historic Places.
Hanford Mills is located at 51 County Highway 12 in East Meredith, at the intersection of Delaware County Routes 10 & 12, just 10 miles from Oneonta, and 15 miles from Delhi.  For more information, visit www.hanfordmills.org or call 607-278-5744.
###
For more information, please contact:  Liz Callahan, Executive Director, Hanford Mills Museum, 607/278-5744, [email protected]
For photos, please contact Peg Odell, [email protected]