Saturday, June 29, 2019 9:00 am – 1:00 pm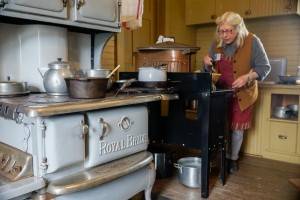 Learn by doing in this fun hands-on workshop.
You will prepare a tasty assortment of cookies and hone your baking skills on the Hanford House's beautiful Royal Bride wood cookstove. The selection of recipes will include drop, bar, cut-out, and filled cookies culled from early 1900s cookbooks, and the ingredients and techniques used will be appropriate to the period.
The cost for the workshop is $45 for Museum members (not yet a member? Find out about Museum membership), $55 for non-members.  Register for the workshop online, by calling 607-278-5744, or by emailing kajsah@hanfordmills.org. The deadline to register is June 20.
This workshop is limited to eight participants and is intended for ages 13 and up.
You may also be interested in our Baking Workshop on September 29, where you will learn to bake quick breads, biscuits, muffins, and crumpets.
The instructor, Pamela Cooley, has been cooking with wood for over 25 years and frequently demonstrates and gives workshops at Hanford Mills. She has also gives woodstove and open hearth cooking classes at Genesee Country Village, Mumford, NY and The Farmers' Museum in Cooperstown. She is retired from the New York State Archives.