How do you grow a good crop of ice?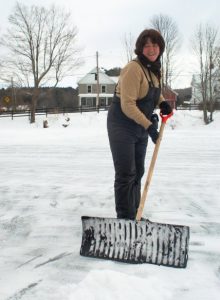 Just as farmers did a century ago, we monitor ice conditions. And, because snow acts as insulator, in the weeks leading up to the Ice Harvest we shovel snow from the pond to foster a good crop of strong, clear ice. In recent years, the depth of the ice has ranged from 7 inches to more than 20 inches.
Hanford Mills Museum has conducted an ice harvest for more than 30 years, and safety is a priority.  Visitors will be welcome to walk on the frozen pond if the ice is 8 or more inches thick. If the ice is 6-8 inches thick, Hanford Mills staff will be on the ice, and visitors can help transfer the harvested ice to the ice house. We have ice cleats available to borrow for those who would like to walk on the ice. Please note: visitors may not take pictures (by phone or camera) while standing on the ice.
Ice Checks
January 20, 2022: The ice was 10 inches thick.
January 12, 2022: The ice was 6.5 inches thick.
Before Heading to the Ice Harvest Festival, please read this important information:
Because the Ice Harvest is dependent on ice thickness and quality, please check this website or call 607/278-5744 prior to coming out for the Ice Harvest on February 5.
Dress warmly in layers. Hats, mittens or gloves, and boots are recommended.
Free parking is available in the large lot on the south side of Route 12, across from Hanford Mills Museum.
For the 2022 Ice Harvest, there will not be a Hot Soup Buffet or other food concessions at the Museum. There will be complimentary hot chocolate and coffee.
GPS may send you over roads that are not winter-friendly. Please use our suggested Directions to Hanford Mills Museum.
If you are traveling on I-88 from the Albany area, we do not recommend getting off at Worcester (exit 19) or Schenevus (exit 18), instead, please use Emmons/West Davenport (exit 16).   We recommend that visitors avoid secondary roads and travel on New York State Routes (NY 28 or NY 23) to access Delaware County Routes 10 or 12. The Museum is located at the intersection of Delaware County Routes 10 and 12.
Per CDC and New York State guidelines, everyone (over two years old) attending the Ice Harvest Festival is asked to wear masks while indoors or inside tents and when social distancing of six feet or more is not possible. We appreciate your kind cooperation
Admission is $9 for adults, $7 for seniors and AAA members, $4.50 for members of the military. (See other discounts)
Kids 12 and under and Museum members get in free.
Back to main Ice Harvest Festival page