2022 ICE HARVEST IS CANCELED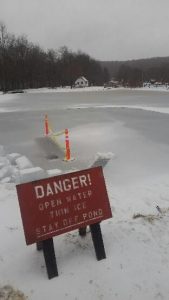 Ice Checks and Updates
February 4: Sadly the amount of standing water on the site, including the frozen Mill Pond, will prevent us from having an Ice Harvest Festival this year. As the water freezes overnight it will make for unsafe conditions. The Ice Harvest is canceled.
February 3: Standing water on the frozen pond and throughout the site. We will evaluate conditions on decide whether or not to hold the Ice Harvest on Friday.
February 2: With a major winter storm approaching with rain, snow, ice, and sleet, we have made the decision to just have staff and experienced volunteers on the ice this year. Visitors will not be able to cut ice. Visitors can still learn about the ice harvesting process and help get the ice to the ice house. Check this page before coming on Saturday for the latest updates. Thank you.
January 27, 2022: 13 inches thick!
January 25, 2022: 12 inches thick!
January 20, 2022: The ice was 10 inches thick.
January 12, 2022: The ice was 6.5 inches thick.
How do you grow a good crop of ice?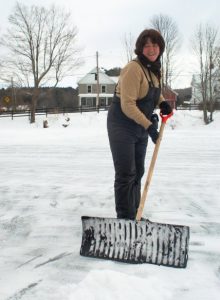 Just as farmers did a century ago, we monitor ice conditions. And, because snow acts as insulator, in the weeks leading up to the Ice Harvest we shovel snow from the pond to foster a good crop of strong, clear ice. In recent years, the depth of the ice has ranged from 7 inches to more than 20 inches.
Hanford Mills Museum has conducted an ice harvest for more than 30 years, and safety is a priority.  Visitors will be welcome to walk on the frozen pond if the ice is 8 or more inches thick. If the ice is 6-8 inches thick, Hanford Mills staff will be on the ice, and visitors can help transfer the harvested ice to the ice house. We have ice cleats available to borrow for those who would like to walk on the ice. Please note: visitors may not take pictures (by phone or camera) while standing on the ice.
Back to main Ice Harvest Festival page