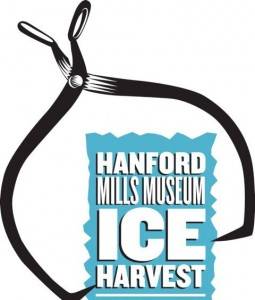 The Region's Coolest Tradition
Held each year on the first Saturday in February
February 6, 2021, 10 am – 3 pm
Come enjoy a day of hands-on history and winter fun.
Ice harvests were once an essential part of winter in rural communities. Before there was refrigeration, ice was needed to preserve agricultural products and to keep food cold in the warmer months. Hanford Mills Museum celebrates this rural tradition with the Ice Harvest Festival.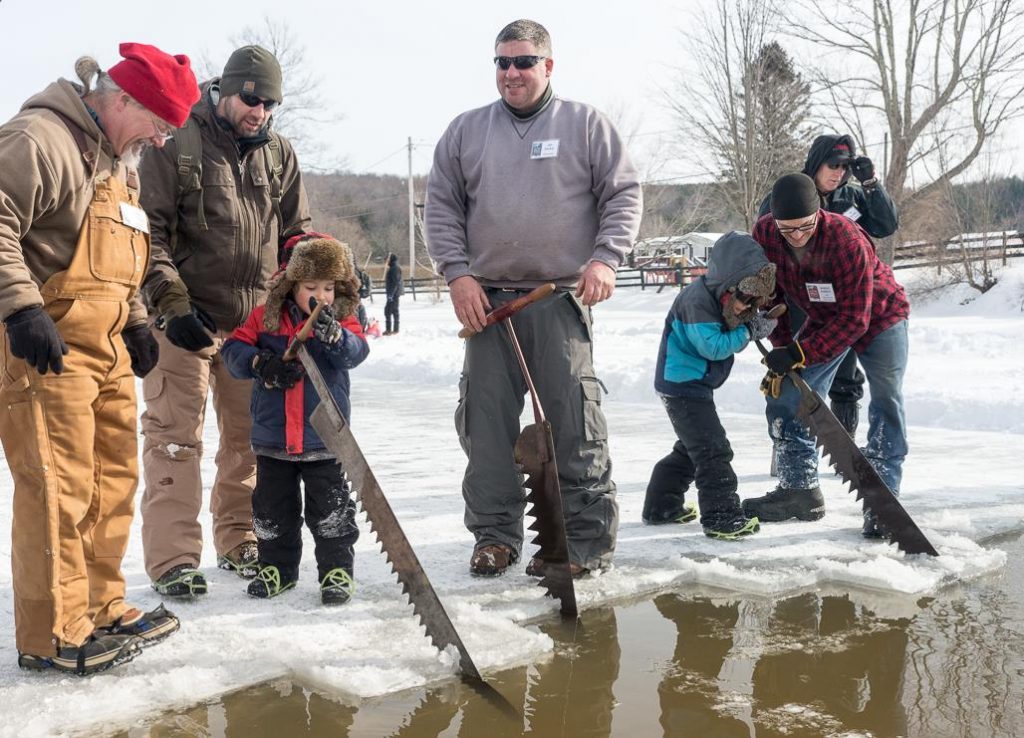 The 2020 Ice Harvest Festival featured ice sculpting demonstrations by the SUNY Delhi Hospitality Center Ice Carving Team, blacksmithing demonstrations, the hot soup buffet with soup and chili from favorite area restaurants, bonfires, cooking and baking in the John Hanford Farmhouse, and films of ice harvests in the 1920s-40s.  The ice was not thick enough to safely be on the ice, but the ice harvesting tools were out, and Museum interpreters talked about ice harvesting and its importance to rural communities and the dairy industry.
A large heated tent and Museum buildings featured local vendors and exhibitors including:
Byebrook Farm (farmstead Gouda cheese),
Blue Merle Apiaries (honey and honey beeswax skincream),
Bakers Grimm (baked goods),
the Cooperstown Distillery (handcrafted spirits and cider),
Catharina's Hats and Mittens (handknit Swedish-style accessories),
Kortright Handiworks (local wool and hats),
the Catskill Forest Association (information and apple tree pruning demos),
My Woodlot/Watershed Agricultural Council (animal track exhibit)
The Dave Brandt Chapter of Trout Unlimited (ice fishing demos if conditions permit, along with ice fishing and fishing information)
The A.J. Read Science Discovery Center will have a fun range of hands-on STEM activities for kids.
Hanford Mills also offered a scavenger hunt for kids, and team building activities.
In 2020 we did not have horse-drawn sleigh rides. The Museum site is not big enough to accomodate the horses and the many people walking to and from the ice house. We will feature horses at events later in year.
Children (12 and under) receive free admission. Museum members also receive free admission. (More information on admission and discounts.)
Hanford Mills monitors and grooms the ice in the weeks leading up to the Ice Harvest Festival. The ice needs to be 8 inches thick for visitors to participate in the ice harvest on the frozen pond.
Hot Soup Buffet
The Hot Soup Buffet is a delicious way for visitors to warm up during Ice Harvest. Restaurants providing soup include: Alex's World Bistro, Alfresco's Italian Bistro, Applebee's, Autumn Cafe,  Blue Bee Cafe, Brooks House of BBQ, Cafe Ommegang,  Cooperstown Diner,  Danny's Main Street Market, Delhi Diner, Denny's, Jackie's Restaurant, Morey's Family Restaurant, Oneonta Bagel Company,  the Otesaga, Simply Thai, SUNY Delhi Hospitality Department, The Tulip and the Rose Cafe, and TK's Diner. Bakers Grimm is providing rolls. Proceeds from the soup buffet and cookie sale (cookies provided by Junkyard Bakehaus) benefit Hanford Mills Museum's educational programs.
Sponsors
The Ice Harvest Festival is sponsored by the SUNY Delhi Hospitality Management Department,  WSKG. and Five Star Subaru.  The Ice Harvest Festival is also made possible by the New York State Council on the Arts with the support of Governor Andrew M. Cuomo and the New York State Legislature. Hanford Mills Museum is very grateful for their generous support.
Did you know? The ice we harvest will be used to make ice cream at the Hanford Mills Museum Independence Day Celebration.
Ice Harvest in the News
"It's such a slice of Americana. It's why we love living up here. It's a beautiful community event."
-Teri Borst
Photos by Kevin Q Gray.
Thank you to Q. Cassetti for designing the Ice Harvest Festival logo.