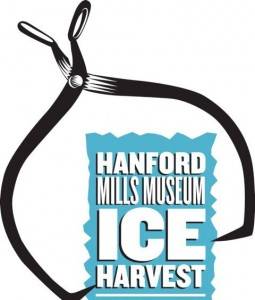 The Region's Coolest Tradition
Ice harvests were once an essential part of winter in rural communities. Before there was refrigeration, ice was needed to preserve agricultural products and to keep food cold in the warmer months. For 2021, Hanford Mills Museum celebrated this rural tradition with online events by Hanford Mills and our nonprofit partners, as well as resources you can enjoy any time.
Save the date: The next Ice Harvest Festival is February 5, 2022.
Ask a Curator about ice harvesting.
Ice Harvesting and Ice Houses Family Program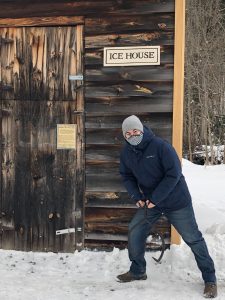 Luke Murphy, Hanford Mills education coordinator, offers a family-friendly online presentation. Learn how ice houses work and experiment with different materials to determine what insulates ice the best.  You can watch this program on our YouTube Channel.
Try out the Winter Activity Guide for fun ideas on how to spend time as a family or group at home. 
Ice Harvesting Videos Premiere
Hanford Mills Museum partnered with the Cooperstown Graduate Program, SUNY Oneonta to create three 4-5 minute videos that explore the ice harvesting process, explain the science of ice and ice houses, and assess ice in terms of a changing climate. 
Winter's Coolest Crop Webinar
Andrew Robichaud, Assistant Professor of History at Boston University, joins Hanford Mills Museum's Liz Callahan and Kajsa Harley  for a program on  Ice Harvesting History and Culture.

Robichaud's book-in-progress, tentatively titled On Ice: Transformations in American Life, is a history of climate, ice, and the ice trade in North America, and explores the cultural and economic ice age in nineteenth-century America. Along with a discussion of the history of ice harvesting in the Northeast, they discuss how Hanford Mills celebrates the historic community tradition of ice harvesting. This program is funded in part by a Humanities New York CARES Grant with support from the National Endowment for the Humanities and the federal CARES Act. 
Recipes from the John Hanford Farmhouse
Pamela Cooley is often baking and cooking in the John Hanford Farmhouse during Ice Harvest. She has assembled Favorite Recipes from Ice Harvests Past that you can make at home. Featured dishes include Welsh Rarebit, Onion Pie, Deviled Bananas, Raisin Puffs, and Steamed Chocolate Pudding.
Birding for Bald Eagles
You can watch a recording of the Feb. 2 Delaware-Otsego Audubon Society (DOAS)  program here. DOAS also developed  a new self-guided driving tour and map featuring 18 sites people can visit independently to view eagles.
Support Local
You may want to order some takeout from a favorite local restaurant, or purchase handcrafted items, baked goods, honey, cheese, and more from local businesses who have come to Ice Harvests in the past. Here's a list to get you started. Thank you to the Otesaga Hotel for having a Soup Special to benefit Hanford Mills on February 6.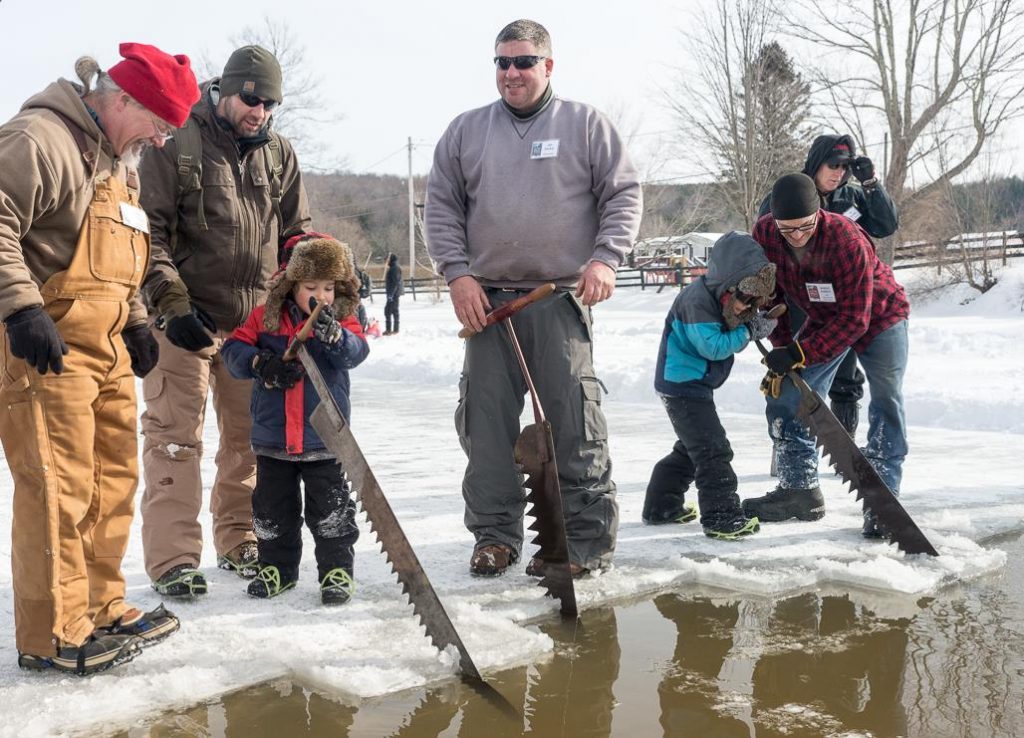 Here's what happens when we can have an in-person Ice Harvest Festival.
Sponsors
The Ice Harvest Festival is sponsored by the SUNY Delhi Hospitality Management Department, WSKG. and Five Star Subaru. The Ice Harvest Festival is also made possible by the New York State Council on the Arts with the support of Governor Andrew M. Cuomo and the New York State Legislature. Hanford Mills Museum is very grateful for their generous support.
Plan to join us February 5, 2022 for an in-person Ice Harvest Festival!