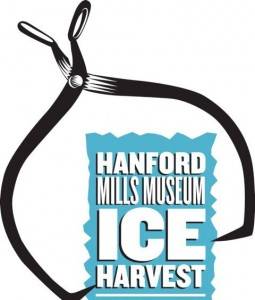 THE ICE HARVEST SET FOR FEBRUARY 5 HAS BEEN CANCELED DUE TO THE IMPACT OF THE WINTER STORM
As of Friday morning (2/4/22) there is standing water throughout the site, including on the frozen Mill Pond, and as this freezes overnight it will make for dangerous conditions. We were very much looking forward to hosting an in-person Ice Harvest after having a virtual Ice Harvest last year due to COVID. The Ice Harvest is our biggest event of the year, so we share your disappointment. Visitor safety is our priority. Thank you for understanding. Please plan to come visit when we open for the season May 15.
Event updates and ice conditions.
Learn about Ice Harvesting
In the days before mechanical refrigeration, ice harvesting was an essential wintertime activity. The ice harvested in the winter would be used to keep food and agricultural products cold in the warmer months. "To farmers, ice was a winter crop and a way to generate income in the winter," says Liz Callahan, the executive director of Hanford Mills Museum. "For Hanford Mills, it is an opportunity to offer the community a unique winter event with a hands-on history lesson."
For the virtual Ice Harvest in February 2021, Hanford Mills Museum partnered with the Cooperstown Graduate Program, SUNY Oneonta to create three 5 minute videos that explore the ice harvesting process, explain the science of ice and ice houses, and assess ice in terms of a changing climate. 
Winter's Coolest Crop Webinar
Find out more about the history of ice harvesting in the Northeast, and how Hanford Mills celebrates this historic community tradition in this February 2021 webinar with Andrew Robichaud, Assistant Professor of History at Boston University and Hanford Mills Museum's Liz Callahan and Kajsa Harley. Robichaud's book-in-progress, tentatively titled On Ice: Transformations in American Life, is a history of climate, ice, and the ice trade in North America, and explores the cultural and economic ice age in nineteenth-century America. Along with a discussion of the history of ice harvesting in the Northeast, they discuss how Hanford Mills celebrates the historic community tradition of ice harvesting. This program was funded in part by a Humanities New York CARES Grant with support from the National Endowment for the Humanities and the federal CARES Act.
Here are scenes from past Ice Harvest Festivals.