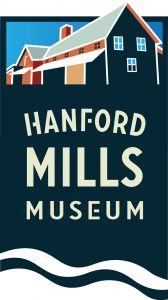 Hanford Mills Museum News Release
FOR IMMEDIATE RELEASE                             

CONTACT: Liz Callahan 607.278.5744 lizc@hanfordmills.org
Antique Engine Jamboree & Powerfest at Hanford Mills Museum
September 8th festival in East Meredith celebrates ingenuity of the past
[East Meredith, NY August 29, 2018] The ingenuity of the past will be showcased at the 35th annual Dan Rion Memorial Antique Engine Jamboree and Powerfest on Saturday, September 8 from 10 am–4 pm. The Museum grounds will be filled with the rumbles and whirs of antique tractors, cars, trucks, motorcycles, outboard motors,  hit and miss engines, water-cooled and air-cooled gas engines
The Museum's Steam Team will be operating the wood-fired steam boiler plant and horizontal and vertical steam engines. Hanford Mills is one of the few historic sites in the country where visitors can see a wood-fired steam boiler and steam engines in operation.
The machines on exhibit, many dating back to the early 20th century and some to the 19th century, were used for a variety of tasks, including crushing rocks, sawing wood, pumping water, and mixing cement. Antique vehicles, including a 1910 Indian motorcycle, a 1925 Model T Ford, a 1926 Ahrens Fox fire pumper, a 1928 Franklin, 1930 Ford Model A Fordor, and a 1933 Ford pickup truck, also will be featured. The Jamboree includes members of the Southern Tier Antique Gas and Steam Engine Club, the Mohican Model A Club, Antique Outboard Motor Club, Hudson Mohawk Chapter of the Pioneer Gas Engine Association, the Franklin Doodlebug Club, Tired Iron of Butternut Valley, the Model T Ford Club of America. Some of the oldest  machines on display include a 1870s treadle lathe, and a Barnes hand-cranked ripsaw from the 1880s.  There also will be model engines and remote control model boats on the Mill Pond. Roger Ree will offer rides on the 1957 Metropolitan Nash Hook and Ladder Fire Truck ride from the Catskill Game Farm.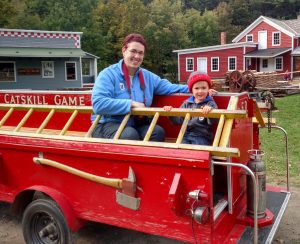 During World War II, new tractors were scarce, so people fashioned tractors from old cars. These homemade tractors were called doodlebugs. Members of the Franklin Doodlebug Club will participate in the Jamboree with a 1928 Chevy Doodlebug, and two 1931 Model A Ford Doodlebugs.
"The Antique Engine Jamboree was one of the first events held at the museum," says Liz Callahan, the Museum's executive director.  "We are happy to carry on this tradition of showcasing antique engines, machines, and vehicles, and are very grateful to the collectors who share their stories with visitors." She noted that over the years the Jamboree has been expanded to include renewable energy displays, children's activities, and steam power demonstrations in the Mill.
The SUNY Oneonta A.J. Read Science Discovery Center will have a hands-on display on energy, which includes a Stirling fan. The Northeast Classic Car Museum will bring their 1928 Franklin and have information about their collection. The Museum's Learning Lab will be open and have blocks, gears, and simple machines for children to play with. The Stoddard Hollow String Band will play from 11 am to 3 pm, and local vendors will be selling BBQ and pie. Visitors also are welcome to bring a picnic.
Hanford Mills Museum's 70-acre site will be open to explore. The Jamboree is included with regular Museum admission, which is free for children 12 and under, Museum members, and EBT cardholders.
Hanford Mills Museum will host the Woodsmen's Festival on October 13. For more information, go to  www.hanfordmills.org, or call607.278.5744.
About Hanford Mills Museum
Hanford Mills Museum is open 10 am – 5 pm, Wednesdays through Sundays, and on holiday Mondays through October 14. Hanford Mills Museum is located at 51 County Hwy. 12, at the intersection of Delaware County Routes 10 and 12, in East Meredith, NY, 10 miles from Oneonta and 15 miles from Delhi. Children 12 and under are admitted free, as are Museum members. The admission fee for adults and teens (13-64) is $9; and for senior citizens, $7. AAA and military discounts are available.
As one of only a handful of operating water-powered mills, Hanford Mills Museum has earned a place on both the National and New York State Registers of Historic Places.  The mission of Hanford Mills Museum is to inspire audiences of all ages to explore connections among energy, technology, natural resources and entrepreneurship in rural communities with a focus on sustainable choices.
For more information, visit www.hanfordmills.org or call 607.278.5744.
###
MEDIA CONTACT: Liz Callahan, lizc@hanfordmills.org 607.278.5744 www.hanfordmills.org
Calendar Listing
September 8, 10 am – 4 pm
Antique Engine Jamboree & Powerfest
Hanford Mills Museum
51 County Hwy 12
East Meredith, NY
www.hanfordmills.org
607/278-5744
Antique engine enthusiasts from across the region exhibit their steam and gas-powered engines. Tour the Mill powered by the Museum's steam boiler and steam engines. Jamboree also features bluegrass music, Mill demonstrations, kids' activities, BBQ, and pies. Festival included with regular admission. Children 12 and under receive free admission. Adults,$ 9; Seniors and AAA members, $7.