Festivals
Woodsmen's Festival
Showcasing logging, sawing and woodworking history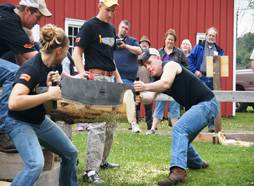 The Woodsmen's Festival will be held on Saturday, October 4, 2014, from 10 am – 5 pm. The Festival features demonstrations of lumberjack skills, a variety of woodworking exhibitors, tree walks, kids' activities, food, music, and more.
Visitors can watch the sawdust fly as logs are sawn in the Museum's sawmill, powered by a 1926 Fitz overshot waterwheel. At the box shop, Mill workers will use the vintage woodworking machines to turn Mill-sawn lumber into useful wood products, like boxes, crates and tub covers. Historic cooking demonstrations will be taking place in the John Hanford Farmhouse, where visitors also can learn more about home life in the 1920s.
The Woodsmen's Festival is included with regular Museum admission, which is free for children 12 and under, and Museum members.