Saturday, October 15, 2016 10 am – 5 pm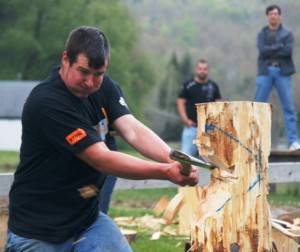 Fall Festival showcases logging, sawing and woodworking history
The Woodsmen's Club from the SUNY College of Agriculture and Technology at Cobleskill returns to the festival to demonstrate cross-cut sawing, overhand and underhand chop, ax throwing and other lumberjack skills.
"Since the first sawmill was built on this site in 1846, Hanford Mills has been synonymous with wood and wood products," explains executive director Liz Callahan. "The Woodsmen's Festival celebrates this long history, as well as the craftsmanship, skill and talent of woodworkers, barn builders, forest managers, coopers, mill workers, and lumberjacks."
The Museum's museum shop will be open, offering Mill-made crafts, traditional toys, books and local products. Hands-on activities for kids include playing with gears and simple machines, exploring electricity with circuit kits, and using a small waterwheel to power machines.
The Woodsmen's Festival is included with regular Museum admission, which is free for children 12 and under, and Museum members.
Museum Neighbors residing in the following zip codes receive FREE admission (with proof of residency): 13757, 13739, 13786, 13750, and 13806.