Festivals
Woodsmen's Festival
Showcasing logging, sawing and woodworking history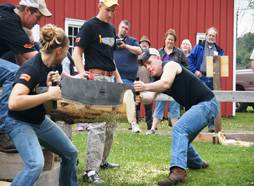 Update 10/4: We have tents, covered outdoor and indoor activities. Lots to see and do at the Woodsmen's Festival today, don't let the rain keep you home.
The Woodsmen's Festival will be held on Saturday, October 4, 2014, from 10 am – 5 pm. Featuring demonstrations of lumberjack skills, horse-drawn logging, log hewing, and woodworking, the Festival also includes BBQ, music by Bourbon & Branch, and tours of the water-powered sawmill, gristmill and woodworking shop.
The Woodsmen's Club from the SUNY College of Agriculture and Technology at Cobleskill returns to Hanford Mills and will demonstrate cross-cut sawing, overhand and underhand chop, ax throwing and other lumberjack skills.
Seth Finch will show how horses were used in logging. Exhibitors include Promisedland Farm, Simple Integrity, and Wightman Lumber. Tickled Pink BBQ will offer BBQ sandwiches, soda and snacks.
Visitors can enjoy music by Bourbon & Branch, a Cooperstown-based band that blends rock, blues, country, and folk and crosses generations of music history—from Muddy Waters and Woody Guthrie to Wilco and the Decemberists.
The Woodsmen's Festival also features children's activities, like making corn husk dolls. The Museum's gift shop will be open, offering Mill-made crafts, traditional toys, sweets, books and local products.
In addition to the "Rural Genius" exhibit, visitors can view "Planting Wildness: Finding Roots in Delaware County." The exhibit includes mixed media artworks, photographs, an accompanying video by Bertha Rogers and Jack Schluep, and logging artifacts from the Museum's collection. Bertha Rogers will read her poetry and discuss her exhibit and her experience converting an old farm to a forested area rich with wildlife at a reception from 2:00-4:00 pm.
"This Festival celebrates wood as a natural resource, and the people who work with wood, including woodworkers, lumberjacks, craftspeople, millers, and builders. Since 1846, people have used water-power on this site to convert logs to lumber, and many other wood products," says Hanford Mills executive director Liz Callahan. "Bertha Rogers' exhibit 'Planting Wildness' is a great addition to the Festival, because it highlights the importance of tree planting and sustainable practices."
The Woodsmen's Festival is included with regular Museum admission, which is free for children 12 and under, and Museum members.