Showcasing logging, sawing and woodworking history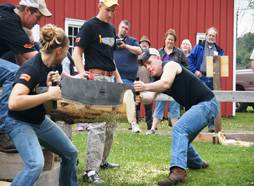 The Woodsmen's Festival will be held on Saturday, October 3, 2015, from 10 am – 5 pm. The Festival will feature demonstrations of lumberjack and woodworking skills, music, and tours of the water-powered sawmill, gristmill and woodworking shop.  Please check back for a listing of vendors and activities as we get closer to the Festival date.
The Woodsmen's Festival also features children's activities, like making corn husk dolls. The Museum's gift shop will be open, offering Mill-made crafts, traditional toys, books and local products.
"This Festival celebrates wood as a natural resource, and the people who work with wood, including woodworkers, lumberjacks, craftspeople, millers, and builders. Since 1846, people have used water-power on this site to convert logs to lumber, and many other wood products," says Hanford Mills executive director Liz Callahan.
The Woodsmen's Festival is included with regular Museum admission, which is free for children 12 and under, and Museum members.