Festivals
Independence Day Celebration
Celebrate an old-fashioned Fourth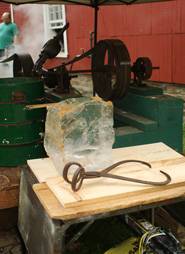 Join us July 4 for a day full of old-fashioned fun, including frog jumping contests, a kids' fishing derby on the Mill Pond, sack races and 19th century games, children's activities, great food, Mill tours, and live music. A favorite tradition at the Independence Day Celebration is the opportunity to sample ice cream, made in a churn powered by the Mill's steam engine. Ice harvested from the Mill pond during the February Ice Harvest is used to chill the cream to make ice cream.
In 2013, we added the Holiday Pop-Up Farmers' Market sponsored by the Greater Stamford Area Chamber of Commerce. The Market featured farmers and vendors of Catskills made products and crafts.
The Museum's 70-acre site is open to explore and tours will be offered throughout the day at the water-powered sawmill and woodworking shop, as well as the historic Hanford House, which recreates home life in the 1920s.