Festivals
Ice Harvest Festival
The Region's Coolest Tradition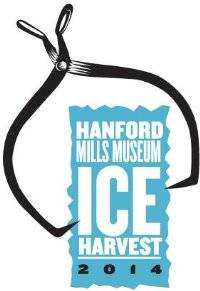 The Ice Harvest Festival is held the first Saturday of February. Save the Date: 2/7/15.
Ice harvests were once an essential part of winter in rural communities. Before there was refrigeration, ice was needed to preserve agricultural products and to keep food cold in the warmer months. Ponds like our Mill Pond were the source of this winter crop.
Take part in a traditional ice harvest as you walk out on the frozen mill pond to help cut and maneuver blocks of ice using historic tools. The ice will be transported by sled and then packed in the Museum's traditional ice house.
See photos from the 2014 Ice Harvest
The 2014 Festival also featured:
Horse-drawn sleigh rides
Hot soup buffet with soups from 20 favorite area restaurants

Local farmers and vendors, including Promisedland Farm (hand-knit hats and mittens), Byebrook Farm (Gouda cheese), the Hobart Book Village (books and gifts), LeRoux & Co. (handmade soaps),  Ate.o.Ate Gourmet Food Truck (lunch and snack items), Cooperstown Distillery (tastings),  and State Line Camping Center (fresh roasted peanuts)
Bonfires
Ice Fishing by volunteers from the Dave Brandt Chapter of Trout Unlimited
Storytelling at 1:30 pm
Films showing ice harvests in the 1930s
Guided tours, traditional cooking demonstrations,  and tabletop games in the John Hanford House (10 am – 2 pm)
Blacksmithing at the Forge
Ice Sculpting by the SUNY Delhi Hospitality Center Ice Team (10 am – 2 pm)
Tree Pruning Demonstrations by Catskill Forest Association (10 am – 2 pm)
Snowman village and winter fun
Children (12 and under) receive free admission. Museum members also receive free admission. (More information on admission and discounts)
This video by Delaware County Tourism show highlights from the 2013 Ice Harvest. Editing by Jessica Vecchione, owner of Vecc Videography in Hamden.
Hot Soup Buffet
The Hot Soup Buffet is a favorite way for visitors to warm up during Ice Harvest. Soup is donated by area restaurants to benefit the Museum's Educational Programs. We wish to thank the following: Alfresco's Italian Bistro, Ate.o.Ate Catering, Applebee's, The Autumn Cafe, Boudreaux 'n' Thibodeaux's, Cafe Ommegang, Cross Roads Cafe, the Delhi Diner, Denny's, The Depot Restaurant and Tavern, Doubleday Cafe, Fiesta Mexican Grill & Cantina, Jackie's Restaurant, Jay's Place, Morey's Family Restaurant,  Oneonta Bagel Company, The Red Caboose Restaurant & Bar, Sloan's N.Y. Grill, Simply Thai, and the SUNY Delhi Culinary Program.
Ice Harvest in the News
Listen to Executive Director Liz Callahan's 1/29/14 interview on WAMC's The Roundtable.
Read about past Ice Harvests at Hanford Mills Museum, which have had more than 1,100 people attend, at All Over Albany, The Mountain Eagle, and The Daily Star.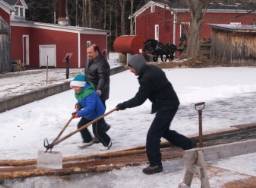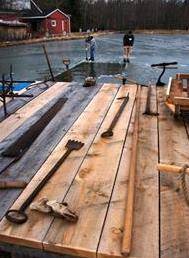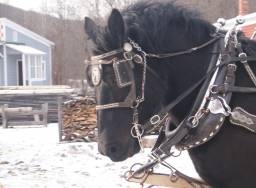 "It's such a slice of Americana. It's why we love living up here. It's a beautiful community event."
-Teri Borst, who attended Ice Harvest in 2013
The 2013 Ice Harvest also was featured in the first episode of SUNY Oneonta's Community Spotlight.