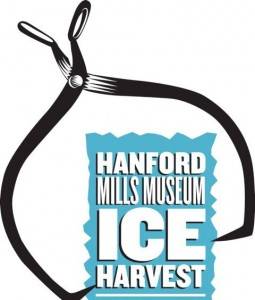 The Region's Coolest Tradition
Held each year on the first Saturday in February
February 4, 2017, 10 am – 4 pm
Ice harvests were once an essential part of winter in rural communities. Before there was refrigeration, ice was needed to preserve agricultural products and to keep food cold in the warmer months.
Each year on the first Saturday of February, Hanford Mills Museum celebrates this rural tradition with the Ice Harvest Festival. Using historic tools and techniques, visitors can cut and maneuver blocks of ice from the Mill Pond, and then transport the blocks to the ice house by sled. Food, demonstrations, bonfires, and vendors round out a day of hands-on history and winter fun.
The Ice Harvest Festival offers a variety of indoor and outdoor activities:
ice sculpting by the SUNY Delhi Hospitality Center Ice Team, see block of ice transformed into beautiful works of art.
ice fishing, the Dave Brandt Chapter of Trout Unlimited will offer kids the chance to ice fish
blacksmith demonstrations
horse-drawn sleigh rides
a hot soup buffet featuring soup from local restaurants
bonfires
cooking demonstrations
local farmers and vendors including Byebrook Farm (Gouda cheese), Promisedland Farm (handknit Swedish-style mittens and hats), the Cooperstown Distillery, Ate.o.Ate Food Truck, and Cabana Coffee
films of ice harvests in the 1920s-1940s
snowman village
painting auction: celebrated equine artist Werner Rentsch attended the Ice Harvest Festival a few years ago. He donated the painting he was inspired to make, "Ice Cutting at Hanford Mills NY" to benefit the Museum. The painting will be auctioned off at Ice Harvest. You may bid online on this painting now.
Children (12 and under) receive free admission. Museum members also receive free admission. (More information on admission and discounts.)
The Museum monitors and grooms the ice in the weeks leading up to the Ice Harvest Festival. Find out the latest ice conditions as well as tips for your visit.
Hot Soup Buffet

The Hot Soup Buffet is a favorite way for visitors to warm up during Ice Harvest and features soup and chili made by favorite area restaurants, including:  Oneonta Bagel Company, SUNY Delhi Hospitality Program,  Signatures Restaurant, The Otesaga, Fiesta Mexican Grill, and Morey's Family Restaurant. Proceeds from the soup buffet and cookie sale (baked goods provided by Junkyard Bakehaus) benefit the Museum's educational programs.
Sponsors
The Ice Harvest Festival is sponsored by the SUNY Delhi Hospitality Management Department,  WSKG, The Daily Star and Five Star Subaru,.
Did you know? The ice we harvest will be used to make ice cream at the Hanford Mills Museum Independence Day Celebration.
Ice Harvest in the News
"It's such a slice of Americana. It's why we love living up here. It's a beautiful community event."
-Teri Borst

Thank you to Q. Cassetti for designing the Ice Harvest Festival logo.