The Region's Coolest Tradition
February 6, 2016, 10 am – 4 pm (held each year on the first Saturday in February)
Take part in a traditional ice harvest as you walk out on the frozen mill pond to help cut and maneuver blocks of ice using historic tools. The ice will be transported by sled and then packed in the Museum's traditional ice house.
The Festival also includes a variety of indoor and outdoor activities, like ice fishing, ice sculpting and blacksmithing demonstrations, horse-drawn sleigh ride, a hot soup buffet featuring soup from local restaurants, bonfires, cooking demonstrations, local farmers and vendors, films of ice harvests in the 1920s-1940s, snowman village, and more.
It's a wonderful day of hands-on history and winter fun.

Ice harvests were once an essential part of winter in rural communities. Before there was refrigeration, ice was needed to preserve agricultural products and to keep food cold in the warmer months.
Children (12 and under) receive free admission. Museum members also receive free admission. (More information on admission and discounts.)
The 2015 Ice Harvest Festival was sponsored by Five Star Subaru and WSKG.
Hanford Mills Museum Ice Harvest Festival 2015 – East Meredith, NY from VeccVideography on Vimeo.
Hot Soup Buffet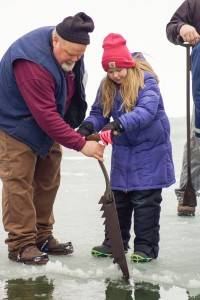 Many thanks to the restaurants that donated soup for the Hot Soup Buffet:
Ice Harvest in the News
"It's such a slice of Americana. It's why we love living up here. It's a beautiful community event."
-Teri Borst, who attended Ice Harvest in 2013
This video by Delaware County Tourism show highlights from the 2013 Ice Harvest. Editing by Jessica Vecchione, owner of Vecc Videography in Hamden.